Good afternoon. Mozambique's northern insurgency is once again in the Zitamar spotlight today as we publish the Cabo Ligado weekly and monthly reports.
A claimed government offensive, dubbed Vulcão IV, may be behind a flurry of violent clashes in the last week around the Messalo river, where the insurgents have been dug in for several months at least. Securing this area, which has served as a staging post for insurgent attacks in Macomia and southern Muidumbe district, is no doubt a strategic necessity, but as Peter Bofin asks in the monthly report, will the success of this offensive simply force the insurgency into another corner of Cabo Delgado, displacing a whole new wave of civilians?
The monthly also features a section on the new legislation formalising local militias, as well as pieces looking at the outlook for the province at large, and for Palma and Mocímboa da Praia in particular.
Read it here: Cabo Ligado Monthly: December 2022
Additionally, Zitamar published today some expert analysis from intelligence consultant Bill Kondracki on Islamic State Mozambique's new propaganda film, which features a hidden training camp where fighters are seen doing push ups and showing off their arsenal of captured weapons. To the untrained eye, they may seem a professional guerilla outfit, but a closer examination reveals the insurgency may be more amateurish than it would like to let on.
---
Analysis: IS-M propaganda highlights insurgents' own deficiencies
Islamic State Mozambique's latest propaganda video takes us inside one of its training camps in Cabo Delgado. But is this guerrilla operation really as professional as it is trying to appear? Intelligence consultant Bill Kondracki offers his analysis.
Cabo Ligado Weekly: 9 -15 January 2023
Intense clashes in Macomia and Muidumbe
Southern Tanzania a hub for extremist networks across Mozambique, DRC and Somalia
Rwandans confirm deployment to Ancuabe
Report also available in Portuguese here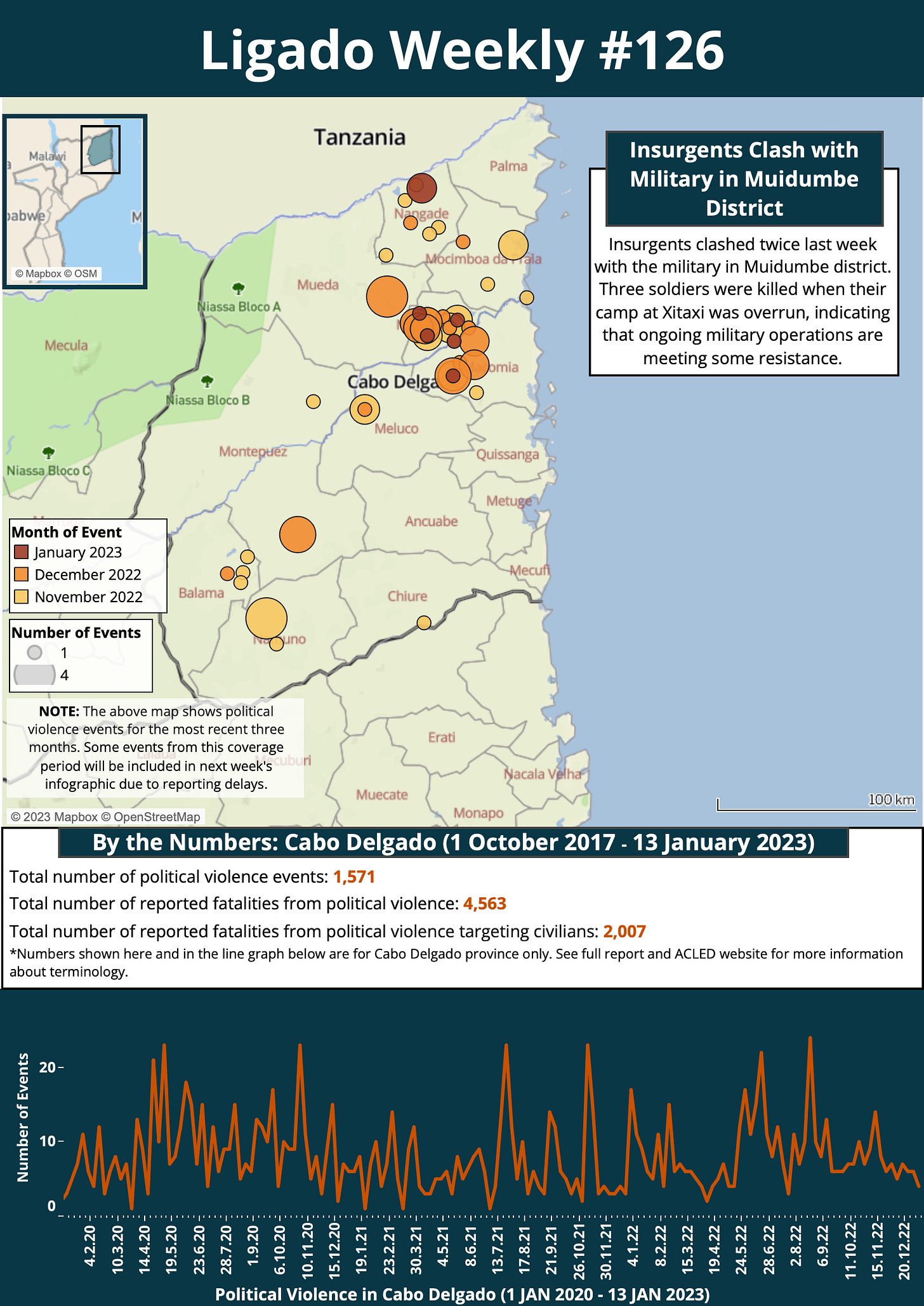 ---
Also in the news:
SAMIM commander tours bases in Mozambique
Mozambique secures funding for rehabilitation of EN1 highway
UAE proposes investment in Nacala Port
Warning of tropical storm in east Madagascar
Religious affairs ministry proposes new religious freedom law