On 4 February 2020, the container ship MAERSK YUKON, owned by the Danish shipping giant, Maersk, sailed into port in Ningbo, China. On board were at least 255 tonnes of illegal timber from Mozambique.
More specifically, the containers contained whole, raw trunks of the tropical tree species nkula, found only in a few African countries and recognisable by its dark red colour.
The month before, in January 2020, two other Maersk ships had also arrived in Ningbo with a total of just under 4,000 tonnes of illegal Mozambican timber.
The revelations are the fruit of a joint investigation by Zitamar News and Danish investigative journalism organisation Danwatch, using Chinese import data provided by C4ADS, a US investigative non-profit organisation focused on illicit trade and global security.
The data also shows Maersk ships took timber from Mozambique to China in 2019 and 2021, which was apparently also illegal.
"Maersk knows the risk"
Maersk's latest sustainability report says that the company is particularly concerned with curbing the illegal timber trade. And a separate corporate policy says that Maersk will not tolerate the transport of wild animals and plants prohibited under either international or national legislation.
"We are aware that there are challenges, but it is a complex area", Maersk said in an email reply to Danwatch and Zitamar.
The company did not want to take part in an interview about these challenges, but its email reply shows Maersk believes it is doing what it can to screen the cargo aboard their ships.
Maersk acknowledges that it has a responsibility to ensure that the cargo on its ships is legal, but ultimately it is the authorities' task to approve goods for export, the company says.
But Denmark's ambassador to Mozambique from 2011 to 2015, Mogens Pedersen, says the shipping giant has long known about the risk of its container ships being used to sail illegal timber from Mozambique to China.
"As ambassador, in 2015 I had a meeting with Maersk at their offices in [the port city of]Beira. At that meeting, the conversation turned to illegal wood, and Maersk said that it was difficult for them to keep illegal timber shipments out of their ships. Illegal logging is a big problem in Mozambique, so I encouraged them to do something about it. But that has not happened", he told Danwatch.
Maersk confirms that the meeting between Mogens Pedersen and the company's then country manager in Mozambique took place, but "cannot recognize the interpretation".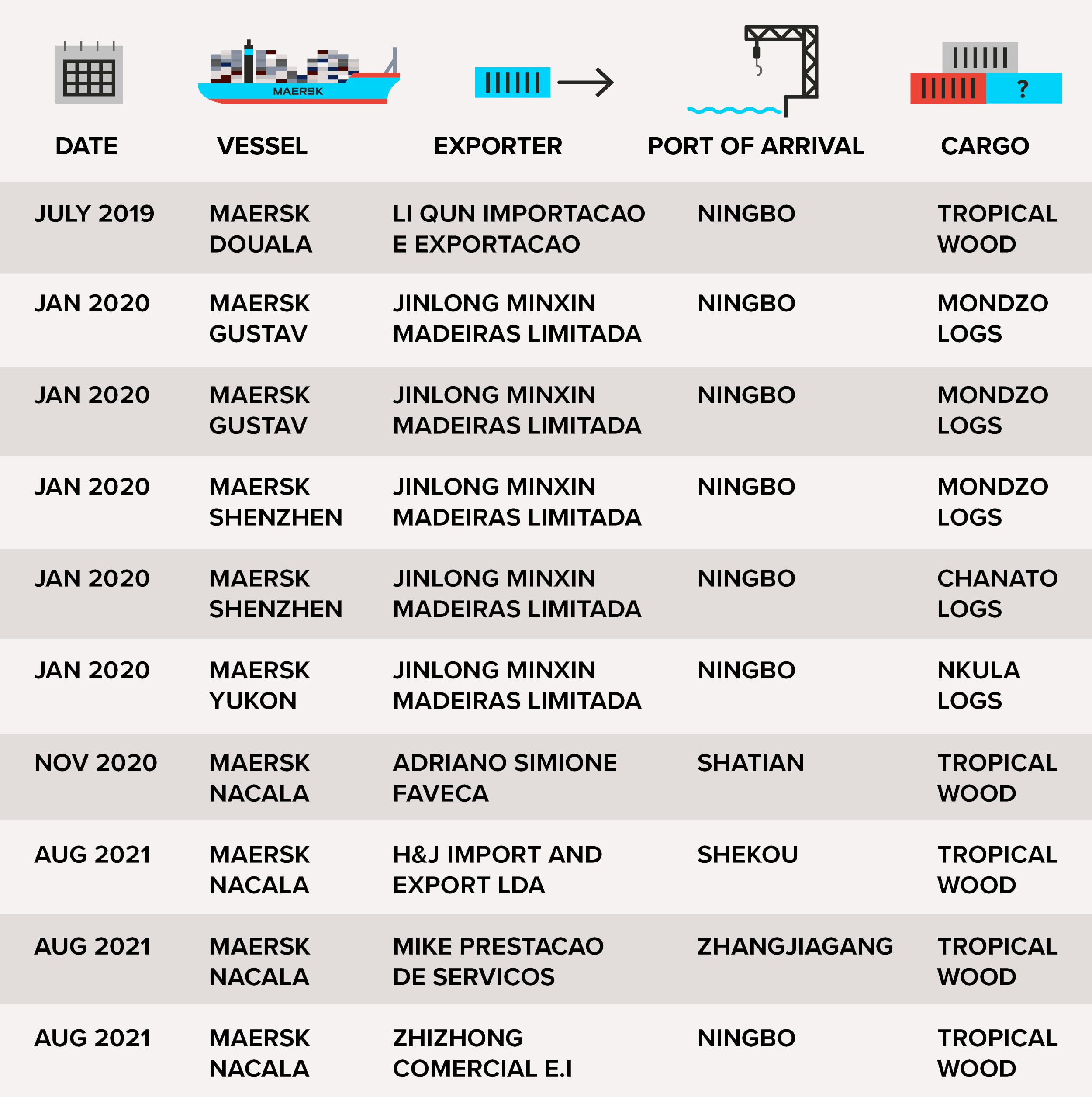 Native species
Mozambican law prohibits all export of wood from species native to Mozambique. But that is precisely what has been sailed to China on Maersk ships.
In January-February 2020, the ships MAERSK YUKON, MAERSK GUSTAV and MAERSK SHENZHEN all set sail from Mozambique with whole trunks of nkula, mondzo and chanato, all valuable species of wood on the list of the Mozambican authorities native species.
Already in 2018, a logger told Zitamar News, that nkula was on the verge of extinction in Mozambique.
The data also shows that around 1,000 tons of "tropical" timber were loaded onto the MAERSK NACALA, across two shipments in November 2020, and August 2021;  and a further 112 tons onto the MAERSK DOUALA in June 2019.
It has not been possible for Danwatch and Zitamar News to determine exactly which types of wood were used on these voyages, but Simon Norfolk, lawyer and founder of Terra Firma, a consultancy specialised in land and forest rights in Mozambique, reckons the timber will have been illegal.
"Basically, 'tropical' wood is the same as wood of native species – and will therefore also have been covered by the export ban", he told Danwatch and Zitamar.
Confiscated wood
Two of the exporters who shipped "tropical" wood out of Mozambique on the MAERSK DOUALA and MAERSK NACALA have also since been caught in breach of Mozambican timber legislation.
Last December, authorities confiscated 45 containers filled with trunks of the local species chacate preto, from the company H&J Importações e Exportações. In August 2021, the company had 26 containers on board MAERSK NACALA.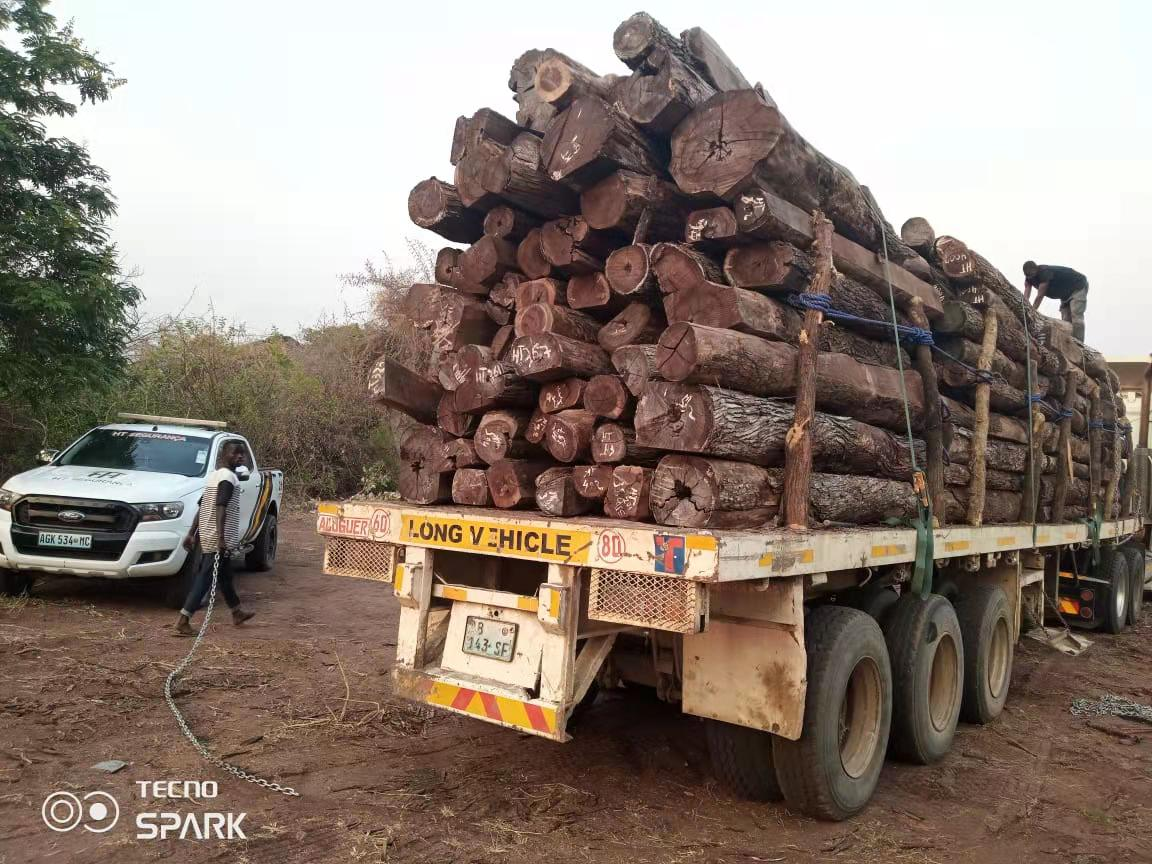 And in the summer of 2022, the company Zhizhong Commercial was fined for illegal logging in the province of Tete. Zhizhong Commercial had 41 containers on board the ship MAERSK DOUALA in September 2019 and 19 containers on board MAERSK NACALA in August 2021.
Maersk confirms that the containers presented to them by Danwatch and Zitamar were on board their ships, but because the shipping documents were issued by a third party, they can neither confirm nor deny information about the contents of the containers.
Serious consequences
Illegal logging has major consequences for Mozambique, says Simao Sebastiao, who works on illegal deforestation for the Association of Support and Legal Assistance to Communities (AAAJC) in Tete province.
"Many of Mozambique's major challenges, whether it is a poor economy, natural disasters or terrorism, can be linked to the illegal trade in tropical timber", he says.
Researchers estimate that deforestation — caused by both the illegal timber trade, and charcoal production – has made Mozambique more vulnerable to cyclones. At the same time, the Mozambique government estimates that illegal logging costs it $200m a year in lost tax revenue. And researchers have even claimed that the activity provides funding for the Islamist insurgency in Cabo Delgado.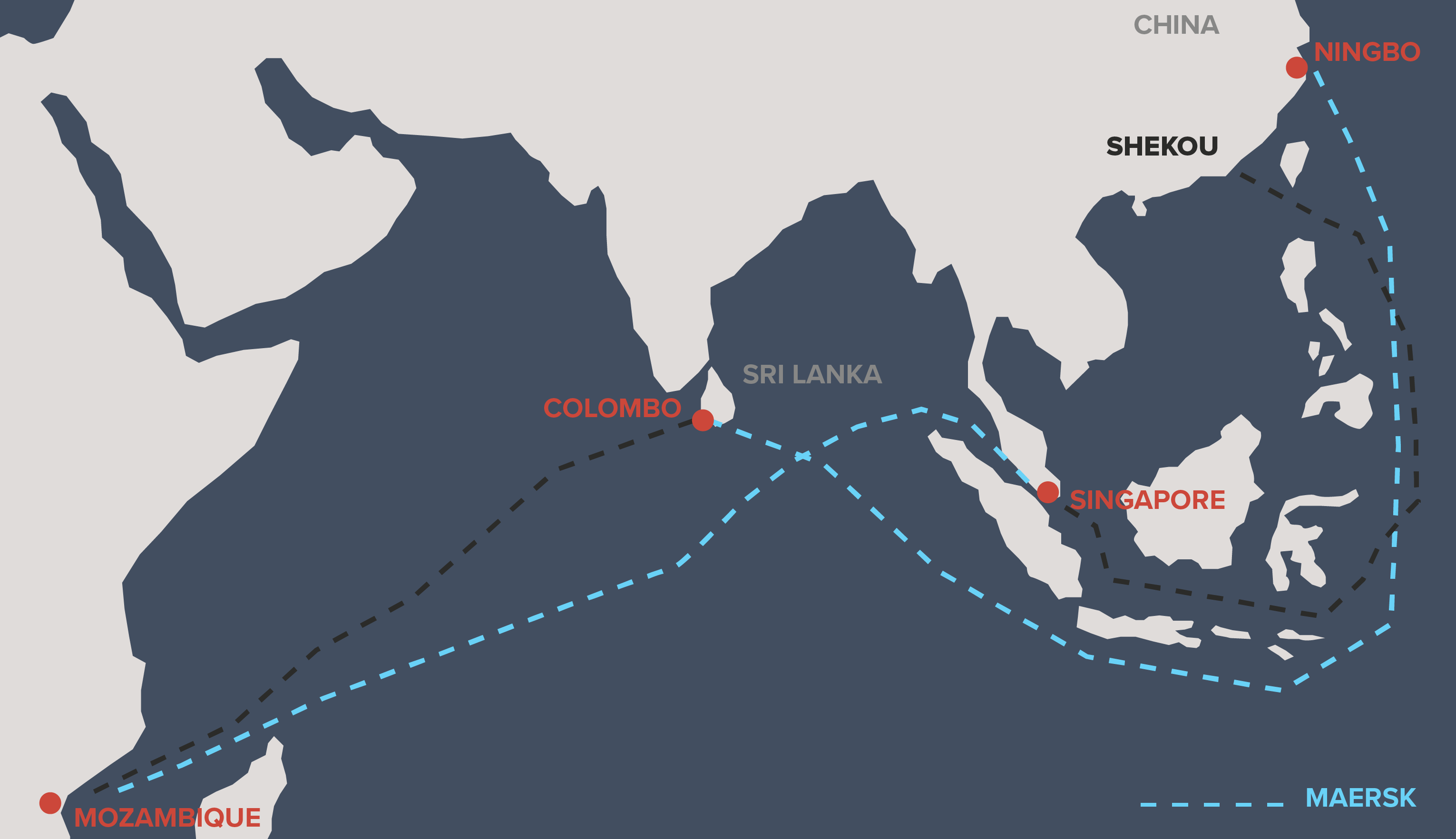 Growing problem
Although the Mozambican government has tightened timber legislation, deforestation remains a growing problem in the country. Among other things, because there is still massive demand for tropical wood for furniture production.
At the end of 2022, Mozambique's national statistics office published a report showing how more and more forest has been cut down since 2017. The most serious situation is in the provinces of Manica and Sofala in the central part of the country.
In Sofala, 12,615 hectares of forest were felled in 2018, and in 2021 that number had more than doubled to over 25,000 hectares.
Documents from Mozambique business register show that several of the companies that have used Maersk ships to transport wood out of the country are operating in Sofala and Manica.
Maersk escapes legal liability
Mozambique rules for timber export states only that it is not permitted to export unprocessed wood from native species.
The ban does not mention anything about shipping or logistics companies having a responsibility for not enabling this export.
Therefore, Maersk has not broken Mozambican law, said Kristina Siig, professor of maritime law at the University of Southern Denmark, after Danwatch showed relevant parts of the Mozambican timber legislation to her.
"The legal responsibility lies with the exporter", she said.
In its response to Danwatch and Zitamar, Maersk also said it is not their task to ensure the legality of the wood:
"Our decision to transport cargo is subject to clearance from customs authorities and it is the responsibility of our customers to secure the necessary licences for the goods to be transported", writes Maersk.
"If we do not get the necessary documents, we will not ship the container. We also have a process whereby we blacklist companies if we become aware that they are trying to circumvent laws and regulations", the email continues.
"Morally unforgivable"
But even though Maersk does not break the law when they ship illegal timber from Mozambique, they will always be morally bound to fight the illegal timber trade, according to Ida Theilade, a professor at the University of Copenhagen who researches the conservation of tropical forests.
"Morally, of course, it is unforgivable", she says. "Illegal logging in southern Africa is typically organised crime carried out by cartels with links to corruption at the political level and with major negative consequences for local populations. I do not understand that Maersk wants to be associated with such a destructive industry".
According to Theilade, Maersk risks undermining their own climate efforts in other areas.
"Destruction of tropical forests contributes up to 20% of the world's man-made emissions of greenhouse gases. Therefore, it makes no sense for Maersk to sail with illegally felled wood from Mozambique, when at the same time they are making a high profile investment in making their ships CO2-neutral", she says.
Alexandra Bloom, a senior analyst with The Environmental Investigation Agency, an international environmental organisation that investigates environmental crime worldwide, also says Maersk should not only be responsible to the authorities in Mozambique.
"Cases like these are just the tip of the iceberg. Transport of illegal timber is a systemic problem for the shipping industry, which needs to develop much better screenings of their goods", she says.
Danwatch and Zitamar tried to get an interview with both Imede Falume, the chief responsible for forest policy in Mozambique's Ministry of the Environment, and the Mozambican customs authorities, but without success.
Comments