The Week in Mozambique, from Zitamar News
It's been a busy week at Zitamar News — and this newsletter is packed with content for paying and free subscribers alike.
New Zitamar Podcast
Exclusive news on Cyclone Gombe, Mozambique LNG, Maputo Port, and more
New Cabo Ligado Weekly and Monthly reports
---
Zitamar Podcast
On this week's Zitamar Podcast, Mozambican journalist Fernando Lima joins Zitamar editor Tom Bowker to discuss the latest developments in the country.
Geopolitical realities — though still being denied in some quarters — are leading to sharp rises in the price of fuel and wheat, which will hit standards of living in Mozambique. The terrible effects of Cyclone Gombe on the country will make things even harder in the short term.
The rise in gas prices however could boost Mozambique's prospects of becoming a major fossil fuel exporter. That could affect how TotalEnergies and its consortium partners view their LNG project in Palma — a district to which some semblance of security has returned, even as the brutal insurgency continues elsewhere in Cabo Delgado province.
That reality — of progress being made in the Cabo Delgado conflict, but with much more still to be done — has been used by some supporters of President Nyusi to argue that he should continue leading the country beyond the end of his second mandate which ends in 2024. The question of who will be Frelimo's presidential candidate in those elections is hanging over the ruling party — but a senior party official said this week that we should not expect a decision on a candidate at the party Congress in September this year. That will at least allow Nyusi a few more months before he becomes a 'lame duck' once his successor is anointed.
His main priority is to avoid power swinging back to the wing of the party loyal to his predecessor, Armando Guebuza — and the trial of former minister Helena Taipo, which started this week, can be seen through that lens.
Tune in to understand how.
---
---
Subscribe for full access:
---
Cabo Ligado Latest
Vital Trends
Insurgent activity continued in Nangade and Macomia districts, while Palma remained under the control of Mozambican and Rwandan forces
In Macomia, insurgents targeted positions of the Mozambican security and defense forces, to lethal effect
President Nyusi continued a diplomatic offensive to drum up support for fighting the insurgency
In This Report
Tanzania frees long-standing detainees facing terror charges, and takes in more refugees, in moves to mollify local communities and international partners
An analysis of the Cabo Delgado insurgency's links to international jihadi movements
How the Mozambique government responded to the insurgency's expansion to Niassa
A run-down of President Nyusi's recent attempts to win international financial support for Rwandan and SADC military assistance
---
Cabo Ligado Weekly: 7-13 March 2022
And in Portuguese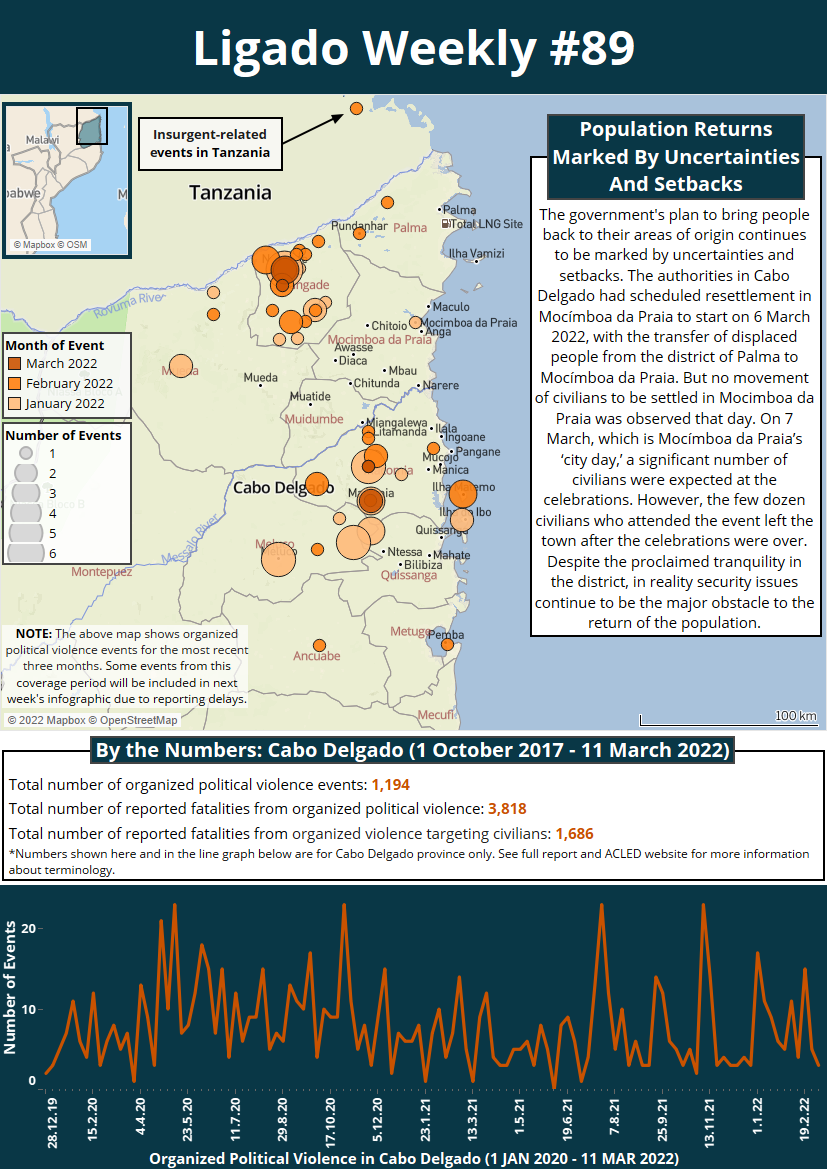 Comments