Agenda:
Today: Prime Minister Carlos Agostinho do Rosário to address parliament regarding fuel price increases
Today: Foreign minister Veronica Macamo and a Mozambican delegation on day 2 of a two-day visit to Harare, meeting with the Zimbabwean government
Tomorrow: Meeting of the Kimberley Process in Moscow, where Mozambique's application to join will be considered
Monday: Launch of the floating LNG platform for Coral South field from the Samsung shipyard, Korea
---
Insurgents kill one man in dawn attack in Macomia
Insurgents attacked Quinto Congresso village in Macomia at dawn on Wednesday, killing one man, looting supplies and setting several homes on fire
Cabo Ligado Weekly: 1-7 November
Insurgents surrender to soldiers in Muidumbe and militia in Macomia
Looting of civilian property by security forces continues
Conflict zone predicted to remain in food crisis through rainy season
---
Follow on Telegram or on our website
New ministers of interior, defence, and 'casa civil' appointed
Cristóvão Artur Chume is the new defence minister, promoted from head of the army
Arsénia Felicidade Félix Massingue is the new interior minister, promoted from head of immigration service Senami
Constantino Alberto Bacela is the new minister in the presidency for matters of the "casa civil"
Defence minister Jaime Neto was dismissed yesterday by President Nyusi
---
The best of the rest:
Nyusi promises to restructure defence sector after firing ministers (O País, DW, Radio Moçambique, Mediafax)
World Bank doubles lending to Mozambique in 2021 (Carta de Moçambique)
Mozambican government says it fulfilled the requirements of exporting diamonds (Lusa)
SADC marks SAMIM milestones (SADC, defenceWeb)
Former Ematum director Agi Anlaué 'moved MZN2m per day' (Canal de Moçambique)

Nyusi promises to restructure defence sector after firing ministers (O País, DW, Radio Moçambique, Mediafax)
President Filipe Nyusi has promised to restructure Mozambique's defence and security forces after dismissing the minister of defence and the interior. The plan for the restructuring is set to be announced in the next few days. Speaking at a graduation ceremony at the military college in Boane yesterday, Nyusi said he wanted the armed forces to "consolidate themselves more and more as the forge of national unity". Nyusi said he will reveal more within days about the restructuring of the defence and security forces.
Mozambique's defence and security forces do need a thorough restructuring if they are to serve the purpose of defending and securing the country. The current arrangement, in which a weak military shares defence duties with the police, was politically expedient in the post-civil war era, but is not up to the task of fighting another civil war in Cabo Delgado. It therefore seems likely that Nyusi's promised restructuring will address this issue — perhaps consolidating defence responsibilities under the defence ministry, and leaving the interior ministry with a stricter civilian mandate.
Today's ministerial appointments support that theory, with the vacancy at the interior ministry going to the head of the immigration service, and the ministry of defence handed to the head of the army — effectively the man leading the counter-insurgency operation.
Rumour has it that the next high profile dismissal will be the head of SISE. The trial into the so-called "hidden-debts" scandal has revealed not only rottenness but also serious incompetence in the secret services, so it is likely that they will also face serious restructuring. Remember, too, that Rwanda has offered to help restructure Mozambique's defence and security sector. It could be that Nyusi wants to model Mozambique's defence forces on Rwanda's highly effective military. Rwandan president Paul Kagame could even have had a hand in recommending this week's decisions.
World Bank doubles lending to Mozambique in 2021 (Carta de Moçambique)
Loans from the World Bank to Mozambique in 2021 will represent double the amount of loans made in 2020, Carta de Moçambique reports. In 2021, Mozambique will have​​ received $1.1bn in loans from the World Bank, compared with the $527m borrowed in 2020. In 2021, loans have been targeted to support conflict recovery in the northern region, boost covid-19 vaccinations and provide support for small- and medium-sized enterprises. The sum of loans approved by the World Bank to Mozambique in the past five years amounts to just over $2.8n, Carta reports, but details on when and how much "interest Mozambique should pay to the institution are scarce".
The World Bank has in particular been enthusiastically funding projects that fall under the purview of agriculture minister Celso Correia, which infuriates his opponents.
Mozambican government says it fulfilled the requirements of exporting diamonds (Lusa)
The government said on Wednesday 10 November that it has fulfilled all the requirements needed to be granted the permit for the export of diamonds. The Kimberley Process group, created by the UN, is now meeting in Moscow, and items on the agenda include the decision to allow Mozambique to enter the international diamond trade. The requirements include, among other things, the creation of a state unit responsible for the assessment and certification process for extraction, transport and export, a duly equipped supervisory board, including a member of civil society, a commercial warehouse and training of specialised personnel. Castro Elias, executive director of Mozambique's Kimberley Process Management Unit, said that Mozambique's acceptance into Kimberley will set off the activation of 40 prospecting and exploration licences and enable the progress of a further 78 applications for licences, which are currently on hold because the country has not yet been authorised to sell this type of product. Mozambique has diamonds in the provinces of Gaza, Manica, Tete and Niassa, Elias said.
SADC marks SAMIM milestones (SADC, defenceWeb)
The Southern African Development Community (SADC) released its first official communiqué on the SADC Mission in Mozambique (SAMIM) on Wednesday. The brief mentions that, "Since its deployment, SAMIM has registered a number of milestones, including recapturing villages, dislodging terrorists from their bases and seizing weapons and warfare material, which has contributed to create a relatively secure environment for safer passage of humanitarian support. Additionally, members of the community have developed confidence in SAMIM forces, feeling more secure and allowing internally displaced persons to return to their normal lives."
The statement comes at an unfortunate time when insurgent activity has returned to Nangade, which a Tanzanian battalion is supposed to control.
Former Ematum director Agi Anlaué 'moved MZN2m per day' (Canal de Moçambique)
Agi Anlaué, Ematum's former command and control director, transacted more than MZN2m ($31,333) per day, says a report seen by Canal de Moçambique, as part of the "hidden-debts" trials. The 79-page report, prepared by the office of financial crime and shared with the attorney-general's office, shows a total of MZN4.5m recorded in transactions, many of them in the name of Anlaué. The report showed that, from January to October 2015, Anlaué cashed 148 cheques worth more than MZN660m, equivalent to MZN2.2m per day. According to Canal, Anlaué was frequently seen with Mussumbuluko Gebuza, son of former president Armando Guebuza, also a subject in the "hidden-debts" case. Anluaé also owned a company with António Carlos do Rosário which received funds. During an official testimony on Monday, Anlaué said he wasn't aware Ematum had a "military component" as he said "he had a lot of responsibilities but no authority" in Ematum. When asked if he was involved in the process of establishing the Exclusive Economic Zone or whether he integrated the team led by do Rosário for an integrated monitoring and protection system, he said no to both claims. Anlaué also said he doesn't remember the transfer of $3m from Privinvest to Ematum. Anlaué also said that Privinvest was not "a normal supplier," as it was able to influence decisions at higher levels.
---
Announcements
Tirupati Graphite said a mining licence had been awarded for the graphite concession in Cabo Delgado that it has agreed to acquire from Battery Minerals (see here)
---
Infographic of the Day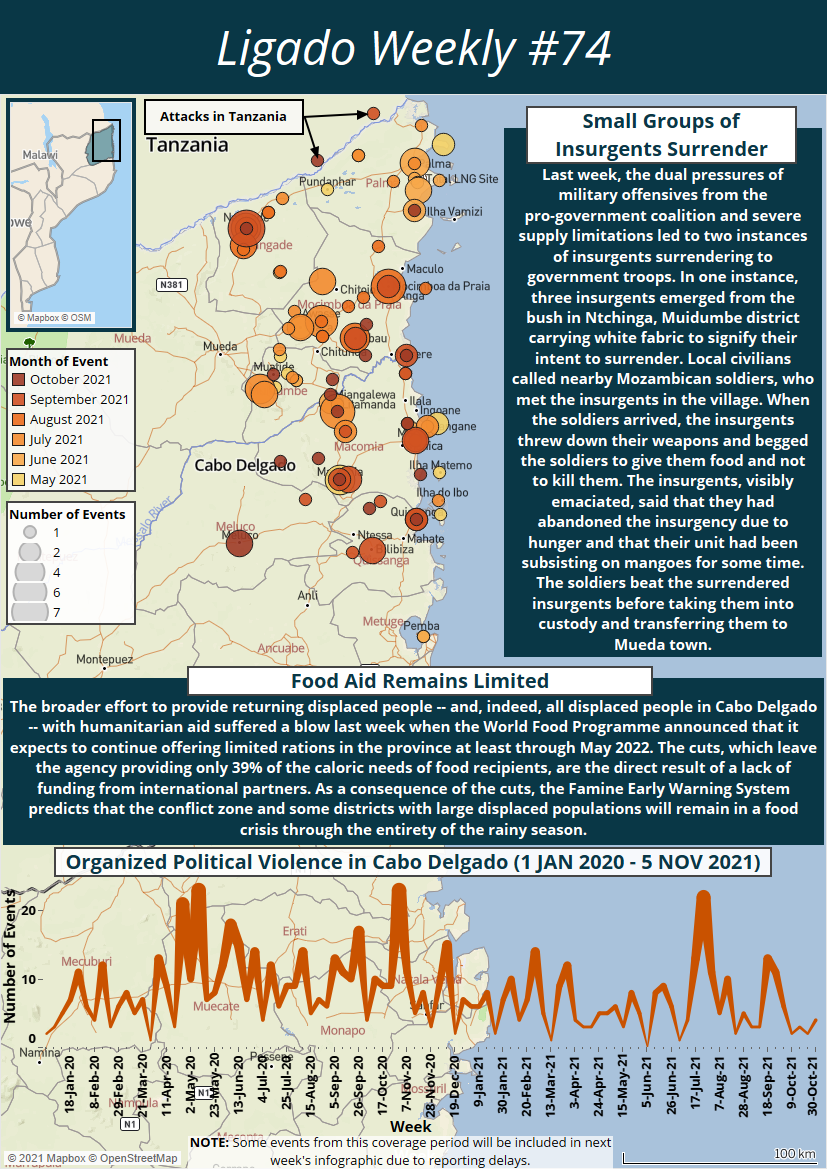 Comments