Welcome to Zitamar's daily Mozambique briefing for 31 January 2020
Announcement:
Zitamar News has a new sister company: Zitamar Consulting LLP, which offers bespoke political risk and security consulting, in areas such as due diligence investigations, political risk forecasting and security intelligence. To find out more, email consultancy@zitamar.com
---
Agenda:
Today: President Filipe Nyusi officially opens the new school year, in a ceremony in Muembe, Niassa
Today: Conference and golf tournament in Johannesburg to promote the Beira Corridor, organised by Beira Port management company Cornelder de Mocambique
---
World Bank calls on Mozambique to address urban-rural divide
Investment should focus on closing the gap in infrastructure provision between rural and urban areas, World Bank says
---
Follow on Telegram or on our website
President Filipe Nyusi has completed his cabinet, appointing Carlos Siliya Minister of Combatants, and abolishing the Ministry of Youth and Sport. In its place, Nyusi has created a Secretariat of Youth and Employment, and a Secretariat of Sport. More here
---
The best of the rest:
Quissanga attacks 'mark an escalation' in Cabo Delgado conflict (Joseph Hanlon Mozambique News and Clippings, Reuters)
Government forces have many shortcomings in Cabo Delgado fight, says Hama Thai (Dossiers & Factos)
MDM leader says coalition with Renamo could happen (Lusa)
PM calls on ENH to seek gas project finance (Lusa, AIM)
Journalist imprisoned for slandering mayor (DW)
INATTER may to control the rail network (AIM)
Quissanga attacks 'mark an escalation' in Cabo Delgado conflict (Joseph Hanlon Mozambique News and Clippings, Reuters)
The attacks on the Bilibiza Agricultural Institute and a teacher training college run by NGO ADPP "mark an escalation of the war" in Cabo Delgado, Joseph Hanlon writes. ADPP director Birgit Holm confirmed that the teacher training college was burned on Wednesday, but no staff or students were hurt. The agricultural institute, which is funded though not run by the Aga Khan Foundation, told Reuters they were still gathering information about the attack. "Bilibiza and Quissanga are strategically important,'' Hanlon writes. "The coast road north from Pemba goes as far north as Quissanga, where the beach is the main port for traffic to Ibo. South of Quissanga is a road going inland (west) to Bilibiza, which is a bypass to the destroyed bridge across the Montepuez river."
Failure to stop insurgents shows army's weaknesses, says Hama Thai (Dossiers & Factos)
Mozambique's armed forces have many shortcomings in the fight against extremists in Cabo Delgado, as evidenced by the continuing attacks more than two years after they started, according to former air force chief General Antonio Hama Thai
This is not the first time that the veteran general has criticized Mozambique's failure to combat the Cabo Delgado insurgency — last year blaming it on failures of the intelligence services, SISE. The appointment of an intelligence veteran as new Interior Minister is seen as an effort to improve liaison between SISE and the armed forces.
MDM leader says coalition with Renamo could happen (Lusa)
Daviz Simango, the leader of the Mozambique's second largest opposition party MDM, said coalition with the country's main opposition party, Renamo, could happen "if the two parties agree on a political front". Simango rejected, however, the possibility of returning to Renamo, but said that because the two parties have the same centre-right ideology, "anything is possible" and "we can't close the door". Such a coalition could be pre- or post-election, he said.
Two years ago Simango completely ruled out the possibility of a pre-election coalition because Renamo's new leader Ossufo Momade's decision to poach important members of the MDM showed he was not serious. But both opposition parties' terrible results in last year's election means a coalition may be inevitable if they want to challenge Frelimo in the future. Before his death, Afonso Dhlakama was working on an agreement with Simango for a coalition for the 2019 elections.
PM calls on ENH to seek gas equity finance (Lusa, AIM)
Prime Minister Carlos do Rosário called on the new chief executive of the state-owned oil company, ENH, Estevão Pale, to prioritise raising financing to back its stakes in the country's gas developments, at his inauguration ceremony on Thursday.
The failure of former CEO, Omar Mitha, to pull together the funds for ENH's participation in the Area 1 LNG project has been cited as one of the reason's his four-year term as head of the company wasn't renewed last year. Do Rosário also said that he wanted Pale to focus on supporting power generation, fertilizer production and fuel production – putting Mozambique's dormant domestic gas projects back in centre stage. For these projects to move ahead however domestic gas developers Shell, Yara and Great Lakes Africa Energy, need to be guaranteed a lower domestic gas price than the Area 1 and Area 4 operators have previously offered — as well as certainty on when the domestic gas will be delivered. These are points that ENH, as the domestic gas aggregator, has been reluctant to pressure the IOCs on, up till now.
Journalist imprisoned for slandering mayor (DW)
José Nhane, a journalist for the newspaper Zambeze, has been sentenced to one year and two months in prison, and fined MZN 65,000, for defamation and slander against the mayor of Dondo, Manuel Chaparica. Nhane was acquitted in another case brought by the former administrator of Dondo, Sofala province, Graça Coreia. Nhane will appeal the guilty verdict, and says he will continue to expose cases of corruption and mismanagement.
This seems an extremely harsh sentence — to lock up a journalist for a year (particularly in a prison system which often forgets to let people out after serving their time). The proper target for the mayor's lawsuit should be the newspaper, rather than the journalist — and a published apology and a fine would be a suitable punishment. This looks like the local court is taking revenge on behalf of the mayor — and should be challenged by human rights groups.
INATTER may control the rail network (AIM)
Mozambican terrestrial transport regulator INATTER may take control of the rail network in Mozambique, currently under the jurisdiction of the state ports and rail company CFM but that should technically be under INATTER, the new Minister of Transport and Communications, Janfar Abdulai, said yesterday. The proposal has already been submitted to the Ministry of State Administration and Civil Service, and would involve transforming INATTER into a public company, and reorganising it to have two executive directors, one for road and another for rail.
INATTER is one of the most corrupt public institutions — for example, it administers the award of driving licences, which are notoriously easy to buy — and it would be good if this proposed transformation were accompanied by measures to clean up its bad practices.
---
Company Announcements
---
Photo of the Day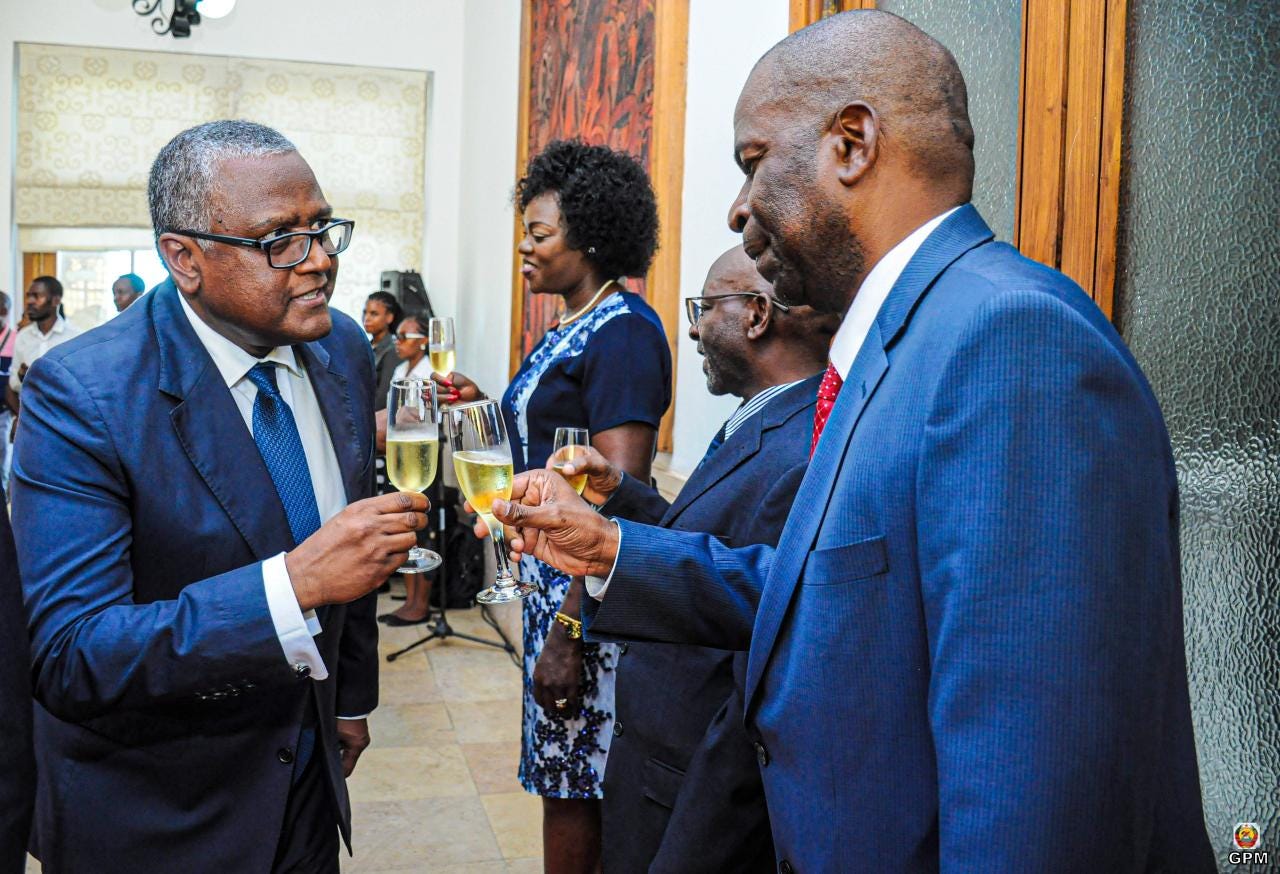 Outgoing ENH chairman Omar Mithá toasts his successor Estêvão Pale
Comments