Agenda:
Today: President Filipe Nyusi is the guest of honour at the ceremony for the 60th anniversary of the independence of the United Republic of Tanzania in Dar es Salaam
Nyusi is committed to building a good relationship with Tanzania's President Samia Suluhu
---
Cabo Ligado Weekly: 29 November - 5 December
Insurgency in Niassa keeps moving south into Mecula district
ADIN starts distributing seeds, fertiliser and hoes to displaced in Mueda
Palma set to become protected enclave
---
The best of the rest:

Police detain women activists after peaceful demonstration (DW)
Seventeen women activists peacefully protesting violence against women were detained yesterday in Maputo by police who claimed that the demonstration had not been authorised. Municipal police prevented the protest, which was supposed to take place in front of the Palace of Justice, and 'protection police' took the activists to one of the city's police stations, where they stayed for about three hours before being released. The women told the press that they were manhandled by police and that they are preparing a criminal case against the officers involved in the incident. The police have not yet made a statement about the case.
Lately, the police prevent any kind of demonstration, even when the object is not related to political or other issues that might in some way worry the government or Frelimo. The de facto rule is now that no demonstration other than a pro-Frelimo demonstration should go ahead. The justification given for the police breaking up yesterday's and other recent demonstrations is the 'lack of authorisation' from the authorities, which has no basis in law, which states that citizens need only inform the police of demonstrations.
Two women raped by military in Nampula (Carta de Moçambique)
Carta de Moçambique reports that two women in Memba district, Nampula province, were raped by Mozambique Armed Forces of Defence (FADM) military personnel. Carta reports that the women were attacked "last Sunday'', without clarifying whether it was 28 November or 5 December. The abuse was confirmed by a "source from the district hospital of Memba." The women had reportedly asked a passing FADM vehicle for a lift. Mozambican military are currently stationed in the coastal region for counterinsurgency operations. Military authorities and police officers have not yet commented.
Hundreds of women and girls abducted in Cabo Delgado (HRW)
More than 600 women and girls have been kidnapped and enslaved by a group linked to Islamic State in Mozambique's northern Cabo Delgado province since 2018, says Human Rights Watch. Some of the women and girls have been rescued by Mozambican and regional forces fighting the insurgency, but many are still missing. HRW's report is based on interviews with 37 people, conducted remotely between August 2019 and October 2021. The interviewees included former abductees, their relatives, security sources, and government officials, and monitored media reports about kidnappings. The insurgents "forced younger, healthy-looking, and lighter-skinned women and girls in their custody to 'marry' their fighters, who enslave and sexually abuse them," HRW said. "Others have been sold to foreign fighters for between 40,000 and 120,000 Meticais (US$600 to US$1,800)." Foreign women and girl abductees, in particular, have been released after their families paid ransoms, HRW said.
Mosque leader imprisoned in Metuge (Carta de Moçambique)
Cabo Delgado's Public Prosecutor's Office is pursuing four religious leaders for terrorism crimes. Carta journalist Omardine Omar revealed in a lengthy investigation that one of the four, a mosque leader originally from Mocímboa da Praia called Austazi Muhammed, was arrested at least a week ago. He had been living in Pemba. A vehicle in his possession was impounded. Muhammed is being detained in Miezé, Metuge district. The second is Muhamade Abdulai, who is also a Pemba resident but originally from Ibo. No further details are given about Abdulai. The final two are named as Mwalimo Farijala and Mwalimo Issufo. Both were later released because of a lack of evidence. The search, seizure and arrest warrants were reportedly issued by Judge Bruno Michael dos Reis Albano de Castro at the end of October.
Despite officials avoiding describing the insurgency as 'Islamic', intelligence and security services are clearly still focused on the movement's religious motivations and Islamic links.
Renamo leader in Manica to prepare election campaign in central Mozambique (VOA)
The president of Renamo, Ossufo Momade, arrived in Manica on Monday as part of a tour of central Mozambique, VOA reported. According to Renamo spokesman Eduardo Leite, the main goal of this tour is to support Renamo members to organise campaign activities ahead of the 2023 municipal elections and the 2024 legislative and presidential polls. Meanwhile, Ossufo Momade has asked the government to speed up the integration of demobilised guerrillas into the police ranks.
Without a dramatic turnaround in the direction of Renamo, it is hard to see this as anything more than going through the motions of preparing for another sham election in which Renamo will lose, protest the outcome, and then win some kind of concession, as usual. Mozambique was not invited to US President Joe Biden's Democracy Summit this week, indicating that it is not seen as a democracy in the US.
Three omicron cases on Mozambique repatriation flight (Correio da Manha)
Three passengers on the repatriation flight that arrived in Lisbon from Maputo on Saturday 4 December tested positive for the omicron variant of covid-19. Newspaper Correio da Manha reported that the 262 passengers who landed in Portugal were all tested for covid-19 on arrival and forced into a 14-day quarantine.
It is no surprise that there is omicron in Mozambique; but it is probably even more prevalent in the European Union by now, which is what makes the continuing travel bans on southern Africa so nonsensical.
Zambezia cashew growers auction 1% of their harvest (O País, Diario Economico)
The province of Zambezia produced 17,000 tons of cashew nuts in the latest growing season, of which only 1% is expected to be sold at government auction, O País reports. The reason for the low quantities being sold in the market is that foreign traders bought the nuts at uncompetitive prices ahead of time, instead of waiting for the reference price to be established by the government. Zambezia hosted the launch of the first edition of the cashew nut auction on Monday. This is the first nationwide action organised by the Mozambique Mercantile Exchange (BMM). The initiative will cover Zambezia, Nampula, Cabo Delgado, Inhambane and Gaza provinces, the five largest producers of cashew nuts in the country.
The BMM is still trying to justify its existence, but if it can consistently offer producers higher prices than other buyers, it may persuade them to stick to formal avenues for selling their crops.
Toll revenues won't cover road building and maintenance (Carta de Moçambique)
During a session at the Assembly of the Republic last week, public works, water resources and housing minister João Machatine suggested that the revenues generated annually by tolls aren't enough to fund the improvement and maintenance of the country's roads. According to Machatine, the total amount collected per year equates to approximately MZN2bn ($31m) which "will reduce the deficit by only 9%," considerably short of the MZN14.7bn ($231m) needed. The tolls are being built as part of the Self Sustained Road Maintenance Program (PROASME), approved in December 2020 which foresees 26 tolls to be placed in roads across the country.
Mozambican motorists could not bear the true cost of building and maintaining roads, which have to be subsidised from the government budget. But for tolls to be politically acceptable, motorists have to believe that they are paying for the roads' upkeep.
---
Announcements
Bank of Mozambique announced its three-year strategic plan for 2021-2023 which has four pillars: monetary stability, financial stability and inclusion, payment efficiency and security, and good governance (see here)
In November 2021, Mozambique registered monthly inflation of 0.99%, 5.17% on year-to-date and year-on-year at 6.77%, according to new data from National Institute for Statistics (INE) (see here)
MRG Metals has been granted environmental licences for the Marao 6842L and Marruca 6846L tenements. The company also received "positive outcomes" from inter-laboratory check analysis (see here)
---
Infographic of the day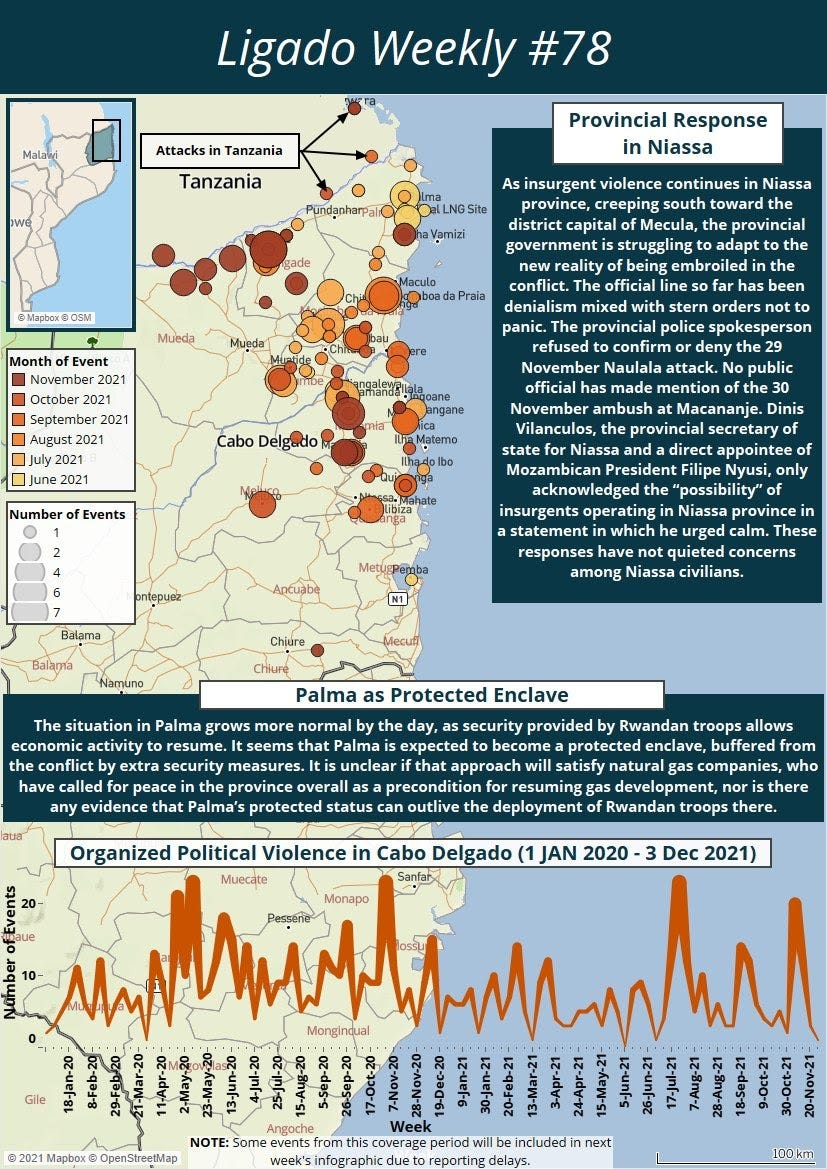 Comments