Agenda:
Today: President Filipe Nyusi to attend the funeral of former public works minister Felício Zacarias, in Maputo
Today: Prime Minister Carlos Agostinho do Rosário presenting Cabo Delgado Reconstruction Plan in Pemba
Tomorrow: International Committee of the Red Cross (ICRC) director of operations Dominik Stillhart arrives in Cabo Delgado
---
Yara to close Beira fertilizer facility and move regional hub to Durban
Yara is to close its fertilizer blending facility in Beira, and instead supply southern African markets from Durban
Cabo Ligado Weekly: 27 September-3 October
Attacks in northern Mueda show expansion in insurgency's footprint
Insurgents kill, steal humanitarian aid in Palma district
Newly-published military operating agreement points to possible future diplomatic challenges
---
Mozambique's Council of Ministers today decided to close many of the country's most popular beaches for 15 days, in response to widespread violation of coronavirus containment measures
---
The best of the rest:

SADC Mozambique mission extension announced (DW, Visão, Mediafax)
The SADC Mission in Mozambique (SAMIM) has been extended as expected. The allied mandate supporting Mozambican efforts fighting the insurgency in the northern Cabo Delgado province was initially approved for three months and was due to expire next week. The announcement followed a meeting yesterday attended by President Filipe Nyusi in Pretoria, South Africa to discuss the military mission with the Southern Africa Development Community (SADC) heads of politics, defence and security. Lusa reported that the president said the assessment "was positive". No information regarding the financing of the operations was shared, or regarding Rwanda's involvement.
New crime boss to restore trust (Carta de Moçambique, O País)
Mozambique's Prime Minister Carlos Agostinho do Rosário appointed a new director for the National Criminal Investigation Service (Sernic) on Friday. The incoming head of Sernic, Nelson Valente Rego is a prominent member of the State Intelligence and Security Service (SISE). He will face the challenge of restoring trust after 11 agents were discharged in August for being involved in criminal activities. During the appointment ceremony, the prime minister asked for the new director to prevent, combat and investigate crimes, "especially those related to kidnappings, human trafficking, money laundering, drug trafficking and cyber crimes." Sernic is an investigation body that works independently from the police.
Civil aviation lost $78m to covid-19 (AIM)
Mozambique's civil aviation operators and service companies lost $78m in 2020 due to covid-19-related restrictions on air travel. The Minister of Transport and Communication Janfar Abdulai acknowledged the severity of the pandemic's effect on the industry, at an event on Tuesday, and called on the regulatory body, Mozambique's Civil Aviation Institute (IACM) to continue leading the sector's recovery. The minister made mention of the encouraging market prospects already seen. Several air carriers such as Air France and South African Airways have recently restored routes to Mozambique.
New attacks leave displaced doubtful to return home (VOA)
Some people displaced by the insurgency in Cabo Delgado province are hesitant about leaving the camps and returning to their homes despite the government urging them to. They told VOA that insecurity in both Mueda and Quissanga districts is frightening them. One woman, staying in the Metuge camp near the provincial capital Pemba, explained: "The authorities are registering for the return, but the registration is only to encourage us." She said conditions for return must be specified. Analyst Wilker Dias agreed, saying that the government's push for a return must be accompanied by reconstruction and provision of services, such as schools, hospitals, water and power, as well as a guarantee of security because the attacks are happening near liberated areas. A government structure that people can appeal to needs to be set up, "so they are not subjected to military command" which controls the area, he added. Last week, a government $300m reconstruction plan for Cabo Delgado was approved.
Soldiers fail to rescue seven abducted women in Macomia (Carta de Moçambique)
Seven women were kidnapped while working in their fields on Saturday afternoon near Nacate village, Macomia district, Cabo Delgado province. Soldiers from the allied SADC Mission in Mozambique (SAMIM) forces were mobilised to the area on Sunday in the hope of rescuing them. They were unable to find the women or their abductors. Carta de Moçambique did however report some success for the allied forces operating in Macomia district. Four insurgents were killed on Xibolongo beach, near Mucojo and then further inland in Montepuez, 10 suspected insurgents were caught - seven on Saturday and three the day before on Friday. Macomia district lies south of Mocímboa da Praia and is densely forested.
Coal from Mozambique easing China's power crisis (SCMP)
China has turned to new partners including Mozambique and South Africa to tackle its coal supply shortage. Mozambique coal exports to China hit the highest level on record in April, reaching 174,000 tonnes, after more than six years of a lull in trade.
In a recent speech at the UN General Assembly, Chinese leader Xi Jinping pledged to stop building new coal energy plants abroad. In September, Chinese machinery company CMEC signed a three-year agreement with Ncondezi Energy to support construction and operations of a 300MW coal power plant, in Tete province.
---
Announcements
Xtract Resources announced increase in production levels from its alluvial mining contractor gold production in Manica province during the three months from April to June (see here)
---
Infographic of the Day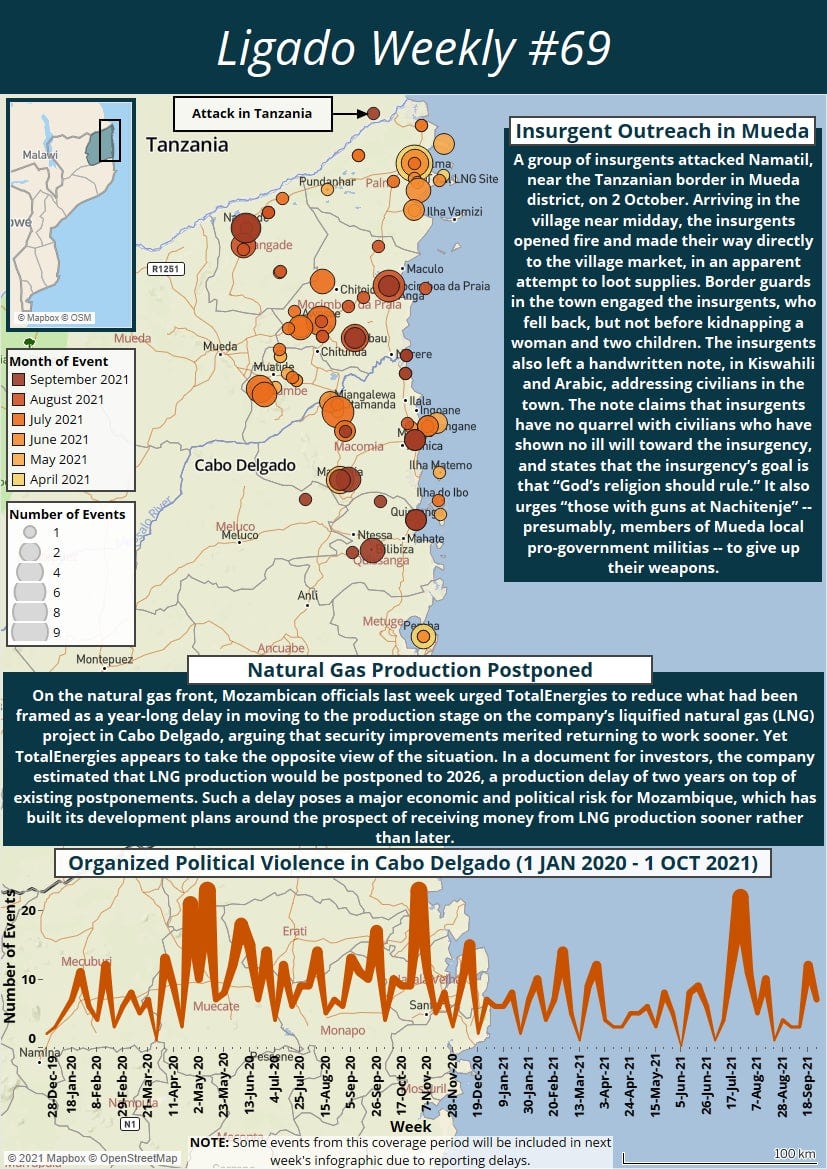 Comments